Buy 2 Get 1 Free!

Next Day Shipping. Automatic at checkout. Equal or lesser value.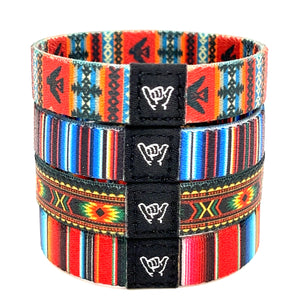 Buy 2 Wristbands Get 1 Free!
Get ready to make waves with Hang Loose Bands! Super comfy, stretchy material and they keep their vibrant colors all summer long. Stack them up, mix and match.
VIEW WRISTBANDS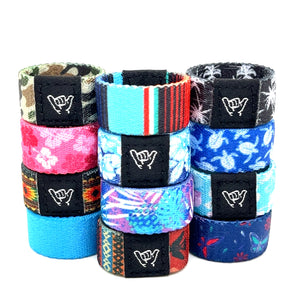 Buy 2 Rings Get 1 Free!
Keep those island vibes going with our super cool ringbands. These ring designs are as original as you are! Which style are you feeling? Stretch to fit.
View Ringbands
HELP PROTECT 1000 SURF ECOSYSTEMS BY 2030
We're passionate about our beautiful coastlines, conservation of our oceans, beaches and surf zones. Hang Loose Bands donates a portion of every sale to Save The Waves - the only non-profit focused exclusively on the conservation of surfing coastlines on an international scale. 
Learn More
Let customers speak for us
Love the donation and support you do
Cute bracelets!! I just have the smallest wrist and still too big but love the concept and I live by the ocean
Pretty and For a Good Cause
A friend gave me the Aloha Spirit wristband as a gift a month ago, and I loved it so much I ordered 4 other wristbands as gifts (one for myself). They feel good on and seem to be durable. It's a plus that buying these support a good cause. I will be buying more as Christmas gifts.
Sea Turtle Wristband Bracelet
Ocean Sunset Wristband
These are fantastic! The colors are great and vibrant, the band is heavy duty, and you don't notice you're wearing it. Here's a convoluted story on why I bought them. A wonderful woman I've been friends with since high school (class of '83), has had a very hard year with a rare virus at the beginning of the year and now has a lymphoma on her brain. The first half of the year, we and another high school friend would go to chemo wearing tie dye. This time around, I wanted something special that would add to the t-shirts. I bought five of these bracelets for the core group of people that have been by her side since day one. These bracelets represent the future. The future of our oceans, the future of the world, and the future of my friend. Thank you Hang Loose Bands!
Great Bands
My kids love these bands. Everyone is always asking where we got them.
Psychedelic Tie Dye Wristband Bracelet
Awesome product
I bought a wristband and two rings for my nephew for his birthday as he has really taken to the surfer lifestyle, he has recently gotten his own board and has gotten several compliments on the wristband and rings thank you
Love these!
So glad I found these for my 11 year old son. Great quality, easy on and off, and cool designs.
Perfect fit
My son loves these fun patterns and the company as responsive in helping us find the right size.
Wristbands
My son and daughter both love these bands. My son picked out 3 for himself and three for a friend. His favorite is the Western Bulls Wristband. He shows cows for 4H and loves that it goes along w/ that theme and of course, now my daughter wants the Boho Bulls wristband.
Great Birthday Gift for Boys
Order a few to keep on hand for bday gifts for boys.
Southwest Line
Loving the new line of the southwest hang loose bands!
Awesome Product
Thank you so much as the kids absolutely love them!